Stationary dredgers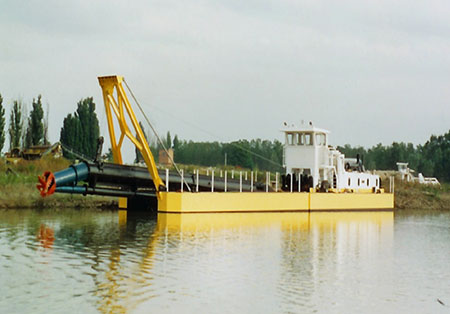 Rarely quarries are identical and not always the dredger remains efficient when moved to another working area. There are many conditions which can influence the ability to keep good production rates over the time; often the enlargement of the excavating area which should allow adding precious cubic meters of sand to the extracting activity, doesn't bring the expected results. Costruzioni Navali, thanks to its experience in this domain, can offer solutions to make the dredger more efficient even in case of "difficult" quarries, where submerged plants or clay layers are present. Sometimes little modifications to the known and consolidated excavating techniques may produce surprising results.

A cutting method, adapted to the type of the bed or the reduction of material waste during the treatment phases, can contribute to remarkable production increases. We produce "tailored" dredgers, using components made by the major worldwide companies:
Dredging pumps IHC, WARMAN
Diesel engines: IVECO,CATERPILLAR, MAN
Reducers REINTJES
Hydraulic components REXROTH
The more and more demanding market requests lead Costruzioni Navali to set up the spare parts stock in order to minimize the waiting time for the replacement of worn dredging pumps components.
All current dredger models can be equipped with anchoring posts and spuds, anchor boom, interchangeable cutter group allowing to switch between the classical cutter and a water-jet system; thus to increase by 20-30% the production of the solid. In case of particular dredging, auger dredgers can be used. On demand, only the "heart" of the dredger can be delivered: diesel engine, clutch, reducer and dredging pump pre-assembled on a basement adapted to the existing hull.
Excavating services provided in outsourcing
Besides building dredgers testes by the main naval classification companies (RINA, Bureau Veritas, Lloyd Register of Shipping, Germanischer Lloyd, Det Norske Veritas, American Bureau, Motorizzazione Civile etc.), Costruzioni Navali produces sieve systems for inert and, thanks to the collaboration with Eurodredging, proposes a new excavating service in outsourcing; the inert is produced , with requested granulometry, directly at Customer's quarry.



Main characteristics
Dredger
type
Pump
type
Length
Width
Height
Main
diesel engine
Auxiliary
engines
Inert
production
Excavating
depth
Outlet
discance
Mix
production
Outlet
height
CNW
meters
meters
meters
HP
HP
MC/H
meters
meters
MC/H
meters
150
WR
7/15
3,50
1,2
150
40
22/55
3/10
250
100/270
3/5
200
18/45
400
200
MTS
9/18
3,50
1,3
200
40
50/115
3/12
450
230/600
3/5
270
60/140
650
250
WR
12/22
5
1,3
250
70
70/180
3/12
500
350/900
3/5
380
75/250
800
370/1.000
300
WR
15/25
6
1,3
450
80
120/300
3/14
600
600/1.500
3/7
600
110/250
900
550/1.250
400
MTS
25
8
1,3
800
100
380
3/14
350
1.900
3/10
500
MTS
26
8
1,4
1.100
200
625
3/12
500
3.200
3/10
600
MTS
26
8
1,5
1.700
350
1.000
3/12
500
5.000
3/12
In case the extracted inert is to be transferred by ship, the sieve and dewatering systems are installed directly on board of the dredger. The motor ships are loaded by means of belt conveyors with sand free of debris and partly dry. Thus leads to transportation cost optimization, since only ready to sell material is being moved.
Stationary dredgers
| Image | Name | Year | Length | Width | Height | Mix production | Dredging pump | Test |
| --- | --- | --- | --- | --- | --- | --- | --- | --- |
| | Cn 07 | 2008 | 40 m | 5,50 m | 1,80 m | 700 mc/h | 10/8" | MTCC |
| | Trebbia | 2006 | 26 m | 6 m | 1,60 m | 1.000 mc/h | 12/10" | MTCC |
| | ED 250 D-WJ | 2006 | 26 m | 86 m | 1,60 m | 1.000 mc/h | 12/10" | MTCC |
| | ED 300 D-WJ | 2006 | 28 m | 6,50 m | 1,80 m | 1.500 mc/h | 14/12" | MTCC |
| | Scrivia | 2005 | 27 m | 6 m | 1,50 m | 1.000 mc/h | 12/10" | MTCC |
| | Romania | 1998 | 15 m | 4 m | 1,50 m | 650 mc/h | 10/8" | MTCC |
| | Giulia | 1998 | 15 m | 4 m | 1,50 m | 650 mc/h | 10/8" | MTCC |
| | Dora | 1988 | 35 m | 6,30 m | 1,80 m | 1.500 mc/h | 14/12" | MTCC |
| | Guidotti 2 | 1995 | 35 m | 6,30 m | 1,80 m | 1.600 mc/h | 14/12" | MTCC |
| | Guidotti 1 | 1990 | 45 m | 12 m | 1,80 m | 1.500 mc/h | 14/12" | MTCC |
You may be interested in Technology and innovation > Dredging